Concept
Bulgaria has been experiencing a rapid decline in population over the last 30 years. As the population dwindles, there are fewer and fewer children to attend class, leading to the closure of several schools each year.
Population change in selected European countries 2008-2055
Bulgaria population (millions)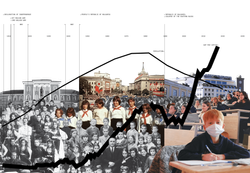 Curators seek experience and idea sharing. Visitors can contact the team via email and social media.
ministry
of culture
Republic of Bulgaria
the chamber of architects
in Bulgaria
union of architects
of Bulgaria